Information to help you lower total cost and improve uptime.
Welcome to the Wiers Video Library! Education is the key to keeping your fleet on the road so that you can serve your customers. Below you'll find our organized playlists and content groups, to help you find what you are looking for.
NOT YOUR TYPICAL TRUCK REPAIR SHOP
Every business is unique and so is every fleet. Count on Wiers to help reduce fleet maintenance headaches.
Conveniently located Service Centers backed by Mobile Maintenance and 24/7 Emergency Service allow you to rely on one partner for your fleet service needs.
Trucks Roll when you partner with Wiers!
No matter your service provider, use these tips to get the best out of your fleet. 
Get best-in-class service with Wiers Service Centers, Mobile Maintenance, and 24/7 Emergency Service.
Save time & money while increasing uptime.
Video updates about what's going on around Wiers.
MAINTENANCE PLANS
& FLEET SERVICE
We work with thousands of managers and businesses to ensure their vehicles deliver products and services in a safe, reliable, and cost-effective manner.
Regardless of the number of units in your fleet, Fleet Partnership Plans are designed for proactive managers who want to:
SAVE TIME
SAVE MONEY
PREVENT BUSINESS DISRUPTIONS
LET WIERS MAINTAIN YOUR FLEET & ENJOY PEACE OF MIND.
Fleet Partnership Plans provide:
Labor Rate Discounts
Priority Service
Proven results
FLEET PARTNERSHIP PLANS
INCLUDE
Up To $40/hr Labor Rate Discount
Priority Service
PM Reports w/ Pictures, Severity, & Recommendations
Managed PM & DOT Schedules
Deferred Repair Tracking
Compliance Dashboard
Fleet Monitoring
Real-Time Diagnostics
Unit & Fleet Dashboard
Personalized Account Management
Fleet Business Reviews
ADDITIONAL OPTIONS AVAILABLE
Reduced Mobile & Emergency Service Fees
1st Available Bay
Free Pickup & Delivery
Service Centers | Mobile Service | Service Plans
Service Centers
Mobile Service
Service Plans
TRUST WIERS FOR COST-EFFECTIVE TRUCK & VEHICLE REPAIRS.
Since 1964, we've been making #TRUCKSROLL by providing expert maintenance and repair to fleets of all sizes. We specialize in fleets with multiple brands and models.
Don't settle for:
Repeat repairs
Poor communication
Excessive downtime
Wiers Service Centers are backed by Mobile Maintenance, 24/7 Emergency Service, and our "Make It Right" Pledge. Regardless of the number of units in your fleet, rely on Wiers for all of your fleet service needs.
Trucks Roll when you partner with Wiers!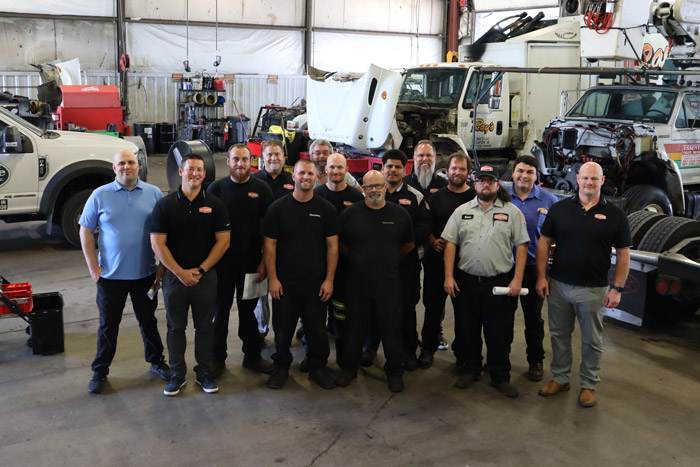 SCHEDULE A DEMO OR TOUR TODAY
WIERS 24/7 FLEET SERVICE & TRUCK REPAIR LOCATIONS
Title

Address

Description

Wiers International Trucks - Plymouth, IN

2111 Jim Neu Dr, Plymouth, IN 46563, USA

2111 Jim Neu Drive Plymouth, IN 46563

Phone: (574) 936-4076
Fax: (574) 936-9301

Wiers International Trucks - Logansport, IN

1631 W Market St, Logansport, IN 46947, USA

1631 West Market Street Logansport, IN 46947

Phone: (574) 722-5656
Fax: (574) 722-9509

Wiers International Trucks – Lafayette, IN

430 Meijer Dr, Lafayette, IN 47905, USA

430 Meijer Drive Lafayette, IN 47905

Phone: (765) 448-9950
Fax: (765) 447-8824

Wiers Fleet Partners – Denver, CO

5300 Monroe St, Denver, CO 80216, USA

5300 Monroe St. Denver, CO 80216

Phone: (303) 294-0470

Wiers Fleet Partners – Indianapolis, IN

3748 W Morris St, Indianapolis, IN 46241, USA

3748 West Morris Street Indianapolis, IN 46241

Phone: (317) 429-0924
Fax: (317) 757-5734

Wiers Fleet Partners – LaPorte, IN

1933 W 450 N, La Porte, IN 46350, USA

1933 West 450 North LaPorte, IN 46350

Phone: (219) 379-5411
Fax: (219) 379-5496

Wiers Fleet Partners – Louisville, KY

4621 Allmond Ave, Louisville, KY 40209, USA

4621 Allmond Avenue Louisville, KY 40209

Phone: (502) 915-7424

Wiers Fleet Partners – Florence, KY

9000 Empire Connector Dr, Florence, KY 41042, USA

9000 Empire Connector Drive, Florence, KY

Phone: (859) 371-4711

Wiers Fleet Partners – Columbus, OH

1515 Frank Rd, Columbus, OH 43223, USA

1515 Frank Road, Columbus, OH 43223

Phone: (614) 276-6511

Mobile Service Technician – Cincinnati, OH

Fairfield, OH, USA

Phone: (888) 889-4377
Mobile Service Technicians
24/7 Emergency Service

Wiers Fleet Partners – Corpus Christi, TX

1026 S Navigation Blvd, Corpus Christi, TX 78405, USA

1026 S Navigation Blvd, Corpus Christi, TX 78405

Phone: (361) 651-1480

Wiers Fleet Partners – Milwaukee, WI

6131 N 84th St, Milwaukee, WI 53225, USA

6131 North 84th, Milwaukee, WI 53225

P: 414-358-9980 

Wiers Fleet Partners – Pontiac, MI

1591 E Highwood, Pontiac, MI 48340, USA

1591 E Highwood Pontiac, MI 48340
(248) 309-6668

Mobile Fleet Partners – Cleveland, OH

215 W Bridge St, Elyria, OH 44035, USA

215 W. Bridge St. Elyria, OH 44035
Phone: (216) 317-2283
Mobile Service Technicians
24/7 Emergency Service

Mobile Service Technician – Lexington, KY

Lexington, KY, USA

Phone: (888) 889-4377
Mobile Service Technicians
24/7 Emergency Service

Mobile Service Technician – Dayton, OH

Dayton, OH, USA

Phone: (888) 889-4377
Mobile Service Technicians
24/7 Emergency Service
Title

Address

Description

Wiers International Trucks - Plymouth, IN

2111 Jim Neu Dr, Plymouth, IN 46563, USA

2111 Jim Neu Drive Plymouth, IN 46563

Phone: (574) 936-4076
Fax: (574) 936-9301

Wiers International Trucks - Logansport, IN

1631 W Market St, Logansport, IN 46947, USA

1631 West Market Street Logansport, IN 46947

Phone: (574) 722-5656
Fax: (574) 722-9509

Wiers International Trucks – Lafayette, IN

430 Meijer Dr, Lafayette, IN 47905, USA

430 Meijer Drive Lafayette, IN 47905

Phone: (765) 448-9950
Fax: (765) 447-8824

Wiers Fleet Partners – Denver, CO

5300 Monroe St, Denver, CO 80216, USA

5300 Monroe St. Denver, CO 80216

Phone: (303) 294-0470

Wiers Fleet Partners – Indianapolis, IN

3748 W Morris St, Indianapolis, IN 46241, USA

3748 West Morris Street Indianapolis, IN 46241

Phone: (317) 429-0924
Fax: (317) 757-5734

Wiers Fleet Partners – LaPorte, IN

1933 W 450 N, La Porte, IN 46350, USA

1933 West 450 North LaPorte, IN 46350

Phone: (219) 379-5411
Fax: (219) 379-5496

Wiers Fleet Partners – Louisville, KY

4621 Allmond Ave, Louisville, KY 40209, USA

4621 Allmond Avenue Louisville, KY 40209

Phone: (502) 915-7424

Wiers Fleet Partners – Florence, KY

9000 Empire Connector Dr, Florence, KY 41042, USA

9000 Empire Connector Drive, Florence, KY

Phone: (859) 371-4711

Wiers Fleet Partners – Columbus, OH

1515 Frank Rd, Columbus, OH 43223, USA

1515 Frank Road, Columbus, OH 43223

Phone: (614) 276-6511

Wiers Fleet Partners – Corpus Christi, TX

1026 S Navigation Blvd, Corpus Christi, TX 78405, USA

1515 Frank Road, Columbus, OH 43223

Phone: (614) 276-6511

Wiers Fleet Partners – Milwaukee, WI

6131 N 84th St, Milwaukee, WI 53225, USA

6131 North 84th, Milwaukee, WI 53225

P: 414-358-9980 

Wiers Fleet Partners – Pontiac, MI

1591 E Highwood, Pontiac, MI 48340, USA

1591 E Highwood Pontiac, MI 48340
(248) 309-6668

Mobile Service Technician – Cincinnati, OH

Fairfield, OH, USA

Phone: (888) 889-4377
Mobile Service Technicians
24/7 Emergency Service

Mobile Fleet Partners – Cleveland, OH

215 W Bridge St, Elyria, OH 44035, USA

215 W. Bridge St. Elyria, OH 44035
Phone: (216) 317-2283
Mobile Service Technicians
24/7 Emergency Service

Mobile Service Technician – Lexington, KY

Lexington, KY, USA

Phone: (888) 889-4377
Mobile Service Technicians
24/7 Emergency Service

Mobile Service Technician – Dayton, OH

Dayton, OH, USA

Phone: (888) 889-4377
Mobile Service Technicians
24/7 Emergency Service