Free Estimates. Free Pickup & Delivery.
For Collision Repair in the greater Milwaukee, WI Area
PLEASE CALL 414-358-9980
Calls are answered 24/7/365
Online requests are monitored Monday – Friday from 8 AM – 5 PM; Saturday–Sunday from 8 AM – 5 PM. We will contact you as quickly as possible for requests submitted during those times. After those hours, we will contact you the following morning.
Complete the form to have a representative contact you.
BECAUSE STUFF HAPPENS
Fender, hood, cab, and frame repairs for all brands and models of commercial trucks. Our body shop, located in Milwaukee, WI, features overhead cranes, axle alignment, frame straightening, and a paint booth.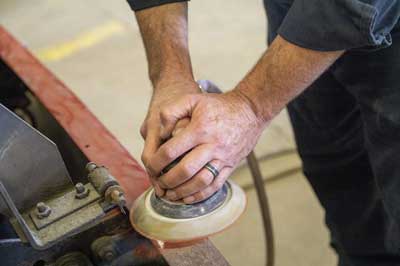 GOOD AS NEW
We offer effective vehicle reconditioning services to keep your existing fleet on the road. Sandblasting, repair and painting is a cost efficient way to promote your company image to customers and drivers.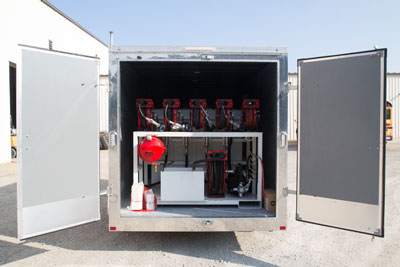 SPECIAL PROJECT EXPERIENCE
Regardless if you need a new body installed or repairs to an existing body, the Wiers Body Shop team has the equipment and experience to do the job. We also up-fit vans, pickups, trailers to your specification for special applications.
Custom work backed by the Wiers Workmanship Pledge.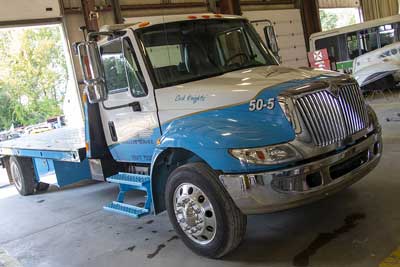 STAND OUT FROM THE CROWD
Make your fleet stand out from the rest of the trucks on the road. Let Wiers work with you to achieve distinctive paint and graphics packages that support your company image. Our 65' downdraft spray booth, car and truck frame rack, and state-of-the-art equipment guarantees your vehicles will be repaired properly.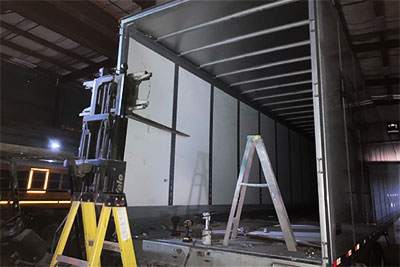 COMPREHENSIVE & COST EFFECTIVE
Enjoy speedy and comprehensive trailer repairs at Wiers. We repair trailers of all makes and models including roofs, doors, panels, floors, suspension, frames and landing gear.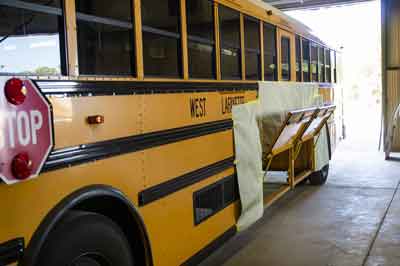 KEEPING CHILDREN SAFE
School transportation departments throughout the state rely on Wiers Body Shop for their collision, warranty, and corrosion issues. Our estimator will travel to your location, provide an easy to read estimate, and arrange a convenient time to repair your buses.
Looking For Other Services?
Wiers is a full-service school bus repair and fleet services provider for Milwaukee truck repair.  We have a full body shop in Milwaukee for all of your repair and upfitting needs as well as diesel engine and transmission repair. Looking for more body shop services? Check out our collision repair capabilities.
WIERS "MAKE IT RIGHT" PLEDGE
Trust all Wiers locations to provide quality collision repair solutions. Our Teams work hard to earn your business every day and when mistakes occur we make them right quickly.
WIERS 24/7 FLEET SERVICE & TRUCK REPAIR LOCATIONS
SERVING THE GREATER MILWAUKEE, WI AREA
Cudahy WI 53110, Franklin WI 53132, Greendale WI 53129, Greenfield WI 53220, Hales Corners WI 53130, Oak Creek WI 53154, South Milwaukee WI 53172, St. Francis WI 53235, Wauwatosa WI 53226, West Allis WI 53214, Whitefish Bay WI 53217, Shorewood WI 53221, Greendale WI 53129, Brown Deer WI 53209, Brookfield WI 53005, New Berlin WI 53416, Franklin WI 53132, Mequon WI 53092 and the surrounding area. We offer repairs for a wide range of commercial vehicles from semi-trucks to super duty & heavy duty trucks, sprinter & delivery vans, light duty fleet vans, lowboy & flatbed trucks & more.
WIERS FLEET PARTNERS - Milwaukee, WI
6131 N 84th Street, Milwaukee, WI 53225
Our goal is to deliver the best truck repair services in the Milwaukee, WI area. The Wiers team is dedicated to delivering 24/7 diesel truck service, maintenance, repair, and fleet service to improve your business performance and lower total costs. We are conveniently located just east of I-41 in Milwaukee, WI within a few short miles of OEM and aftermarket parts vendors.